EARLY COLLEE IN THE HIGH SCHOOL PROGRAMS
INFORMATION SESSIONS FOR 8TH GRADERS AND THEIR PARENTS
SCSD 8th Graders are encouraged to apply to one of the Early College Programs offered in partnership with SUNY Schenectady. As an Early College student, you will be eligible to earn college credits as a high school student for free. Earned credits are transferable to four-year colleges upon graduation.
Early College ProgramsSmart Scholars and City as OurCampus offer:

Free tuition, books, school supplies and technology
Academic Advisement, Progress Monitoring & Tutoring
College and Career Planning
Socio-emotional Supports
Orientation and Summer Programing (required)
Monthly Enrichment workshops and activities
Student / Teacher / Family Meetings • Community Service and volunteering
Information Session Dates
Interested Students and Families must attend one information session
Thursday December 8, 2022 (6pm): Mont Pleasant MS Project Room (3rd Floor)
Wednesday December 14, 2022 (6pm): Virtual Session:
https://tinyurl.com/ECHSMeetin... (12/14 only)
Thursday January 5, 2023 (6pm): SUNY Schenectady Stockade Building (Room #101)
Wednesday January 11, 2023 (6pm): Schenectady High School Library Questions? Please email: sunyscccearlycollege@gmail.com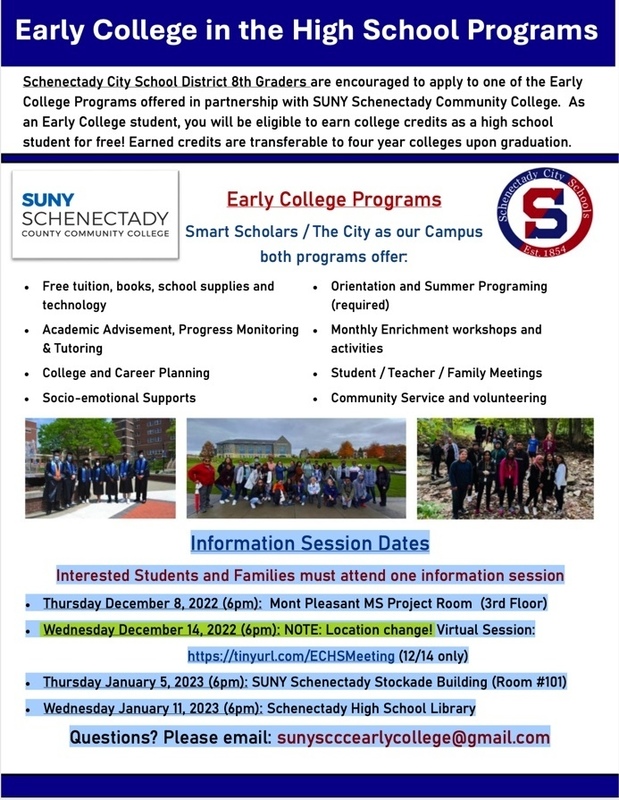 DOWNLOAD FLYER HERE