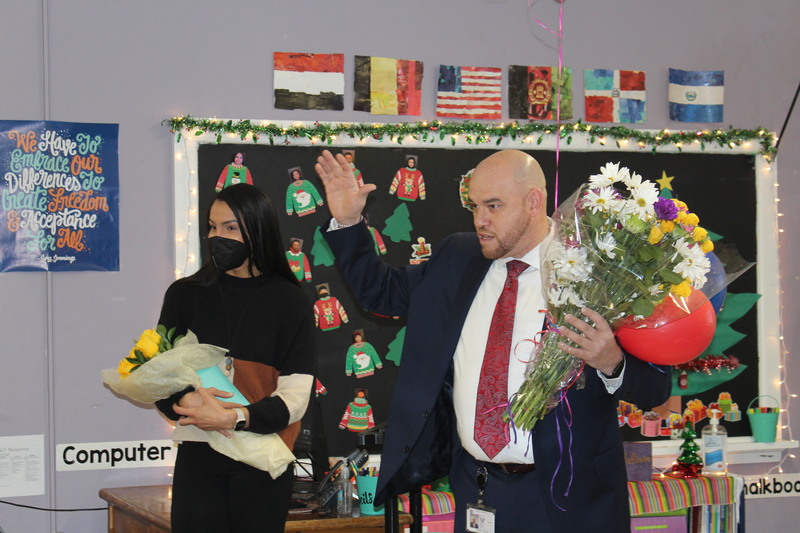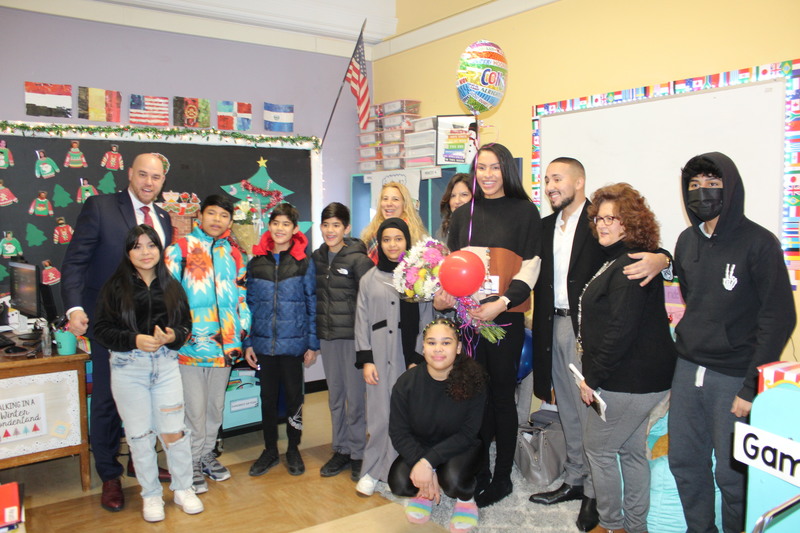 Congratulations to Marissa Ray, a 7th and 8th grade English As a New Language (ENL) Teacher at Central Park Middle School who was named the Schenectady City School District 2023 Teacher of the Year. Superintendent Anibal Soler, Jr. surprised Ray and her students with a visit and the announcement Wednesday morning.
"I am pleased and honored to announce that Marissa Ray has been selected as our Teacher of the Year," said Soler. "Marissa is an exceptional educator, and her goals, mission and actions are clearly aligned with those of the district. She is committed to making connections to students and their families and ensuring that every one of her students has what is needed to be educationally successful. Students in Marissa's class feel appreciated, supported, loved, and able. We are grateful that she is a member of our team and is so deserving of this honor."
Ray, who has been an ENL teacher at Central Park for the last seven years was nominated for Teacher of the Year honors by Kelly Kilian, a paraprofessional and colleague at Central Park. Ray's nomination was supported with several letters submitted from former and current students, parents, and colleagues.
"Over the past seven years, Marissa has shown tireless dedication to her students, colleagues, and our community and goes above and beyond to ensure the success of everyone she encounters," said Kilian in the nomination. She added that Ray's dedication to providing a safe and nurturing environment for her students stands out. She makes learning fun, devotes free time to raising money, assisting with food, and clothing, ensures that her students can get to and from appointments and sporting events and helps them transition to adulthood. Kilian also noted the time and detail that Ray dedicates toward decorating her classroom.
"Marissa gets to know every student in her classes," said Kilian noting that Ray's approach is to help students find and use their strengths to overcome struggles, trauma, and develop positive self-worth. "She is always available to lend a helping hand or word of encouragement to students and colleagues alike," said Kilian.
Kilian cited the impact that COVID was having on students when they had to learn from home. She said Ray made visits to her students' homes and sat outside on porches with her white board to provide lessons and offer support. Ray also developed what is called the "Buddy Program" in which students were teamed up with someone who volunteered from the school or community. They serve as a pen pal and help with needs such as school supplies or other things
Ray is a believer in community building and feels strongly that the more connected a student feels to their classroom community, the more likely they are to engage and participate. "In my classroom social emotional learning is embedded into our daily activities," she shared as part of her best practices.
She is an advocate for equity and has familiarized herself with best practices around linguistic development and pushed for more equitable access to interventions and services for English Language Learners. She strives to provide a culturally responsive learning experience and connects student cultures and backgrounds to her lessons. "I pride myself in fostering a welcoming and inclusive learning environment," said Ray, who also encourages her colleagues to reflect on their practice and think deeply about ELL's academic and social emotional needs.
Ray also has a hand in many extra-curricular activities including Anti-Racist Building Leadership Team (ARBLT), After-School Tutoring, Bulletin Boards, Cultural Night, Diversity Resource Group, Homework Club, Lunch Basketball Program, Positive Behavioral Interventions and Supports (PBIS), Student Council, Sunshine Committee, 21st Century Program.
The many letters of support, accolades, and gratitude are evidence of the impact Ray has on her students.
"I remember the day I met Ms. Ray," said Joiarib Garcia, former student of Ray's who graduated from Schenectady High School in 2021. "I was so excited to be in her class because I knew she was going to be the best teacher for me, and I knew she was going to help me get better speaking English. Garcia said he learned a lot from Ray and thanks to her for great learning and great memories. "I know she is the best teacher for students in Schenectady," added Garcia. "I am so proud of her and excited to see her nominated for this award."
Michael Perez Santiago, a student of Ray's from 2017-2019 said he remembers when he started at Central Park and didn't know English. He reflects on his memories of Ray fondly. "She ensures that your classes are fun and educational," said Perez Santiago. "Outside of school, she helped me a lot by getting me on the basketball team, which was a stage of my life that I really enjoyed." Perez Santiago said he always told Ray, "You were the best teacher I had in my academic years in Schenectady."
"I am writing this letter to remind you of how much I love and respect you as my ESL teacher," said Madiha Sultan, a student of Ray's from 2017-2020. "I remember you teaching me English in a very fun and unique way."
Sultan said she will never forget the holiday gifts that her teacher gave to her and her classmates. "You don't even know how much happiness it brought to me, my classmates and my family," she said. "My family always tells me that they appreciate your teaching, love and kindness towards us and all the new immigrants. You made me feel so loved and welcomed."
Kubra Fnu, a former Central Park student who is a junior at Schenectady High School said, "Miss Ray never gave up on us and she tried to be there whenever we needed help. That's how I am here on my way to my goal, and I am still trying hard." Fnu added, "whenever I feel like I'm not gonna make it, I just remember her telling me 'try your best'." Fnu's letter to Ray said, "We love you. You are the best teacher. I am glad to hear that our favorite teacher is nominated for a special award."
"Miss Ray is the best teacher ever," said Sonita Ghayasee, a student of Ray's from 2019-2022. "I am really thankful to have a good and amazing teacher like Ms. Ray." Ghayasee said Ray helped her out when she had some issues. "She was always by my side and helped me out," she said. "If I had one dream it would be to go back to 8th grade and do all the fun things with Ms. Ray again. I love you from the bottom of my heart."
Yemen Alharbi, 8th grader at Central Park, appreciates Ray for helping students learn why they should accept different people and how. "We learn about how cultures live in different and new ways, said Alharbi. "Ms. Ray always tries hard to make the lessons fun and interesting. She does many amazing activities for example, the holiday celebrations for many different countries around the world. We read and learn about the holiday and then celebrate it together."
"We are grateful to you for all the things that you taught our child this year," said M. Qasim, parent of Hussain Jan. "Thank you for understanding and always helping him. You're a great teacher."
"I am more than delighted and honored to express how Ms. Ray went above and beyond her duties as a teacher, not only to teach my nephew and advocate for him but showing me how much she cares for the students she serves," said Amayra Crooke-G, aunt to one of Ray's students.
"Not only is Marissa outstanding in creating lessons for her students to learn English, she also is a strong advocate for them," said Elizabeth Mark, retired teacher. "Marissa goes the extra mile to make sure that the ENL students' social emotional needs are being met. She has strong ties with all her ENL families and goes out of her way to help them when needed."
Mark Pidgeon, a colleague of Ray said, "I strongly recommend Marissa Ray for Schenectady Schools Teacher of the Year and this school district, and these students need her every day. She is extremely deserving of this recognition, and we are all fortunate to have her as a friend and colleague. Marissa Ray is exactly what is needed in Schenectady Schools, and I hope that she is recognized for being the incredible teacher and inspiration that she is."
"I can't imagine what it would be like to be a teenager in a completely new country - having to learn the language on top of other struggles of being a middle school student," said Marci Tebbano, former coach, and physical education teacher at Central Park. "But I can imagine that having someone like Marissa to help you in your new adventure is the best possible scenario. She goes above and beyond to help her students transition into their new environment and does an excellent job educating her colleagues on how to best support students."
Tebbano, now an administrator in another district added, "I am beyond thankful for the knowledge that Marissa has shared with me over the years regarding ENL and her students' needs." Tebbano said she still reaches out to Ray for advice and guidance.
"The level of engagement that she creates for her students is amazing," said Tiffany Zadoorian, a teacher at Paige Elementary School. "Marissa creates a strong sense of community within her classroom by making sure all her students feel connected. She provides visuals of various cultures as well as offers many texts that support the variety of backgrounds her students have."
Yun Hee Lee, an ENL teacher at Mont Pleasant who once worked with Ray at Central Park said, "Students praise her for putting in extra effort to create fun activities and classroom environments." Lee complimented the teacher's transformation of her classroom into a café/reading room and said, "I am sure creating such learning space helps her students feel welcome and safe."
Lee appreciated have Ray as a mentor and said, "Not only did she help me learn and grow as a teacher, but she also helped me feel part of the team. I know she went above and beyond to mentor me."
"A great deal of her work with students does not end in the classroom," said Jonathan Maurice, 8th grade social studies teacher. "Through constant communication with the families of her students she has been instrumental in helping them gain access to services and resources in the community." Maurice said he enjoys hearing the updates on Ray's former students and how successful they've become.
Erik Dils, a teacher who has been working in the district since 1998 said, "I have worked with many exceptional teachers. I can, however, say that she is among the best of the best in the entire group."
"Marissa is one of those teachers you come across once in a great while," said Kilian.
As Schenectady City School District Teacher of the Year, Ray is eligible to enter the New York State Teacher of the Year contest.